A sure sign summer is around the corner at one of s.k.p.r's favorite client events…the 4th annual CAMPFIRE BALL to benefit the important work of Children's Oncology Services, Inc. Read all about it….
Relive your summer camp days with a city twist at the 4th annual Children's Oncology Services, Inc. (COSI) Campfire Ball on May 21. Enjoy all your camp favorite snacks along with some spiked bug juice served up by local celebrity bartenders- and don't worry, we'll also have plenty of s'mores! Before the nights over you'll be dancing to some hot tracks mixed by DJ Phiction and belting out our favorite camp songs with some very special guests: our campers!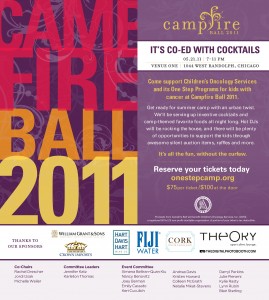 The event will feature special guest appearances by former Chicago Bear Jerry Azumah and The Score's Dan Bernstein (WSCR-AM). Emceeing the event is Nina Chantele of 103.5 KISS-FM and 107.5 WGCI-FM.  Nina will be joined by fellow KISS-FM jocks Angi Taylor and Jordan as guest bartenders.  Other guest bartenders to date include: Susan Carlson (WBBM-TV), Kori Chambers (WFLD-TV), Saran Dunmore (NBC 5 Fitness Club Coach),  Trent Erikson (WBBM 780) and Gina Ferraro (US99.5, WGN-720 AM, TV's 'Nude Hippo' on NBC), plus Cheeky Chicago's Jessica Zweig.
How could this event get more exciting? Well, just look at some of the amazing prizes we have up for auction: a beautiful leather Coach handbag, 10th row seats at the July 1st Crosstown Classic at Wrigley Field, and a leather blazer by Theory, and many, many more.  The event will also feature the wildly popular Digital Photobooth by MVS Studio (http://www.thedigitalphotobooth.com/).
"This is one of our favorite fundraisers since its inspired by our biggest program that we run for the kids at Children's Oncology Services…summer camp!" said Rachel Drescher, event chair of Campfire Ball and camp counselor.  "Through Campfire Ball guests will get a glimpse of the important work that Children's Oncology Services does all year long for children with pediatric cancer."
Adventure to COSI's chic version of summer camp to help make this summer special for a child with cancer. Sponsors include: William Grant & Sons, Crown Imports, Hart Davis Hart, Fiji Water, Cork Catering, Old Style, Theory, City Swarm, and 103.5 KISS-FM
WHEN:      Saturday, May 21
7 p.m.-11 p.m.
WHERE:     Venue One
1044 West Randolph St.
Chicago, IL 60612
PRICE:  $75 advanced ticket, $100 at the door
Admission supplies an open-bar and heavy appetizer selection.
To buy tickets or for more information, please visit www.onestepcamp.org/events/campfire-ball.php or call 312.235.6836